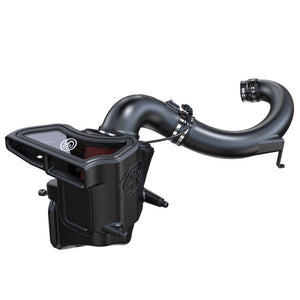 S&B COLD AIR INTAKE FOR 2020-2022 SILVERADO, SIERRA 1500 / TAHOE, YUKON, SUBURBAN, ESCALADE DURAMAX 3.0L, COTTON CLEANABLE - 75-5137-1
Part #: 75-5137-1
$34800

$348.00
Free Shipping in Canada.
---
---
COLD AIR INTAKE FOR 2020-2022 SILVERADO, SIERRA 1500 / TAHOE, YUKON, SUBURBAN, ESCALADE DURAMAX 3.0L
MAXIMUM PERFORMANCE
Our cold air intake for the Chevy Silverado / GMC Sierra 3.0L Duramax was engineered to minimize air restriction and flow better than stock. This kit comes with a fully enclosed airbox that protects the filter from dirt and keeps out engine heat.

The 2020-2022 3.0L Duramax intake kit can be installed by connecting directly to the stock intake tube. For even better performance, S&B includes an additional intake tube to connect directly to the turbo to maximize airflow.
NEW SNAP IN LID DESIGN
Our new snap-In lid design requires no screws to secure it to the box. This makes installation and inspection quick and easy. Our silicone edge trim provides a protective seal against unwanted, power-robbing engine heat and debris. This kit comes with a massive, highly-efficient air filter which results in better performance and protects your engine. Available in either 8-layer Cotton Cleanable or Dry Extendable media. (Patent Pending)
PREMIUM SILICONE COMPONENTS
The air filter, coupler, lid seal and box plug are all made with silicone. Silicone is a premium rubber which will seal better and last longer. It handles temperatures as high as 400F without cracking or tearing and won't deteriorate over time.
CHOOSE YOUR AIRFLOW.
The 75-5137 intake kit has (3) airflow configurations. Its Unique Airbox design provides more air to the filter by using a scoop that captures cool air from the front quarter panel. S&B also includes a silicone box plug that can be installed or removed depending on personal preference and airflow requirements. 

Silicone Box Plug removed: This configuration will provide an extra air inlet that will be pulled from the driver side fender area. 

Silicone Box Plug installed: This configuration will seal the secondary air inlet located on the side of the box facing the vehicle fender. The front-facing grill inlet and the front scoop will become the main source of airflow into the Intake Box.
NO CHECK ENGINE LIGHTS
S&B devotes a huge amount of resources to engineer our intakes that allow your engine to run properly with stock calibration or enhanced tuning. An injection molded MAF plate in conjunction with a foam MAF sensor gasket ensures a true OE seal to the sensor.
---
Check these out:
---