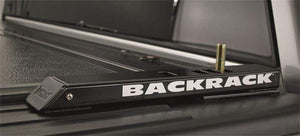 TONNEAU COVER-LOW PROFILE 1" RISER | 2004-2014 FORD F-150 - 92512
Part #: 92512
$5359

$53.59
Free Shipping in Canada.
---
---
TONNEAU COVER ADAPTORS BACKRACK(TM) does not make Tonneau Covers but we have created an accessory called the Tonneau Cover Adaptor Kit (TCA). This kit allows you to install certain types of Tonneau Covers with BACKRACK(TM) and Safety Rack Cab Guards. CLAMP TO THE RAIL TONNEAU COVERS Backrack(TM) Cab Guards sit on the bed rail at the front of the truck bed, over the front Stake Pockets. Tonneau Covers that encroach on this area are generally not compatible with BACKRACK(TM) products. Certain Tonneau Cover manufacturers clamp their covers to the inside rail of the truck bed, exposing the area above the Stake Pockets. These type of Tonneau Covers are compatible with BACKRACK(TM) Cab Guards. HOW DO THE TONNEAU COVER ADAPTORS WORK? The TCAs simply lift your BACKRACK(TM) Cab Guard up by one or two inches depending on your trucks make, model and year. BACKRACK(TM) Cab Guards need that increase in height to clear the Tonneau Cover. The TCAs also include extended Stake Pocket Bolts (SPBs) to replace the SPBs that came with your BACKRACK(TM) Cab Guard originally. These extended SPBs are required to accommodate the increased height. IS YOUR TONNEAU COVER COMPATIBLE? We have created a Tonneau Cover Compatibility Chart listing covers that are compatible with BACKRACK(TM) Cab Guards. Before purchasing a Tonneau Cover, be sure to refer to this Chart. Click on the icon above to view. Some covers may require slight modification and are listed on the Chart along with the fully compatible and incompatible Tonneau Covers.
Twenty years ago we made our first BACKRACK. Since then we have seen competitors come and go trying to copy our design. While they might add a one size fits all product to complete their product line, they can't match our attention to detail that results in a custom fit, no drill application tailored to fit your truck. BACKRACK is our only product and all our energies are focused on offering you the best product possible. Drilling holes into the sheet metal of your new truck is against the male code of ethics. Like applying suntan lotion on another guys back's just wrong. It also costs you big money at the end of a lease so we design our install kits with clever bolts that don't require drilling. If however your truck doesn't have stake pockets we must break the code. Trucks come in different widths. Cabs come in different heights. One rack to fit all trucks might be convenient for the manufacturer but won't look so good on your truck. Our competitors try to take the easy way out by making a one size fits all deal at the expense of your trucks good looks. We however have taken the time to design our products for each and every truck. Use our Choose your Ride feature to get the right product for your truck. Oh yeah, one size fits all is another way of saying let's drill some holes in your truck. Twenty years ago we designed the BACKRACK. Twenty years later the same man still owns the company and still gets dirty in the shop on occasion. When a business owner is involved in the day to day operations of a business he is personally invested. The result is a quality product created by caring employees. Although our manufacturing processes are modern, our commitment to quality is old school.
TONNEAU-LOW PROFILE 1IN. RISER
2004-2014 FORD F-150
Tonneau Cover Adaptor
---
Check these out:
---