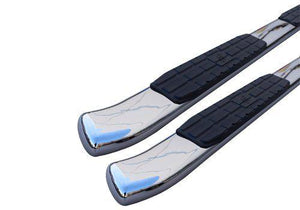 STEELCRAFT 4" POLISHED OVAL RUNNING BOARDS | 2015-2019 F150 & 2017+ F250/F350 EXT CAB
Part #: 40-14207
$35464

$354.64
Free Shipping in Canada.
---
---
Modern, stylish, functional...Everything you want your sidebars to be. Step your truck game up with our new 4X Series Sidebars and prepare to turn heads wherever you go.
Founded in the automotive aftermarket heartland of Southern California in 1998, Steelcraft Inc. is the premier manufacture of truck and SUV accessories. With corporate offices, research and development, strategically located in Corona California, Steelcraft is home to the finest team of dedicated employees with hundreds of years of cumulative automotive expertise. Our valued clientele define our success and are hence our highest priority. Since our R&D and manufacturing facilities are based here in the United States, this gives us the unique ability to quickly develop accessories for hot new model year vehicles and bring them to market often 90-180 days before other manufacturers.
2015-2019 F150 & 2017+ F250/F350 EXT CAB
Custom Mounting Brackets
Polished Welded End Caps
Limited Lifetime Warranty
Color

u00a0

Polished

Material

u00a0

Stainless Steel

Tube Shape

u00a0

Oval
---
Check these out:
---