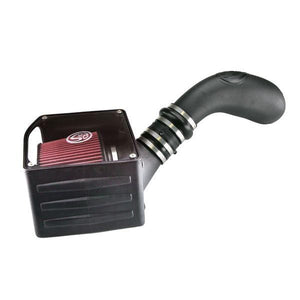 S&B COLD AIR INTAKE KIT (CLEANABLE, 8-PLY COTTON FILTER) | 2009-2013 CHEVY/GMC 4.8L 5.3L 6.0L 6.2L
Part #: 75-5042
$34793

$347.93
Free Shipping in Canada.
---
---
Introducing the 75-5059 for the 2009-2013 Chevrolet and GMC V8 gas engines. We took everything into consideration when conceptualizing this intake kit. The design literally replaces all stock intake components. These dramatic changes contribute to increased airflow and exceptional fit and finish.
S&B Filters is a manufacturer of cold air intakes, filters and other performance parts, specializing in diesel/gas trucks and SUVs. Holding true to our goal, we engineer intake systems to greatly reduce airflow restriction, while still protecting your engine and test our product against our competitors following ISO 5011 standards. We keep our quality high and our pricing low by making almost everything ourselves in the U.S.
Increases cool airflow to your engine. Protection from dirt and debris. Minimizes airflow restriction. ISO 5011 Tested. Clear lid for easy filter inspection.
Our intake kit for the 2009-2013 Chevy/GMC truck and SUVs seals the deal when it comes to feeding obscene amounts of air into your airbox. An attachable urethane piece on the side of the box seals to the stock location pulling air from the wheel well feeding cool air directly into your intake. If you want more air, a second opening at the bottom of the airbox provides you with more air than you'll know what to do with. We tuned the inside of the tube to retain the stock mass air flow sensor calibration to help you avoid check engine lights. Matching the mass air flow sensor readings also helps to maintain a proper air-fuel ratio and fuel efficiency.
Filter Type: Oiled Filter, Cotton Cleanable
Quantity Of Oil: 87 Grams
Replacement Filter: KF-1035
Filter Material: Cotton Gause
Filter Color: Red
Color: Black
Street Legal In all US States: Yes
Carb Exempt ID: D-590-14
Fuel Type: Gas
Liter: 4.8 Liter, 5.3 Liter, 6.0 Liter, 6.2 Liter
Cylinder: V8
Warranty: Million Mile Warranty
---
Check these out:
---