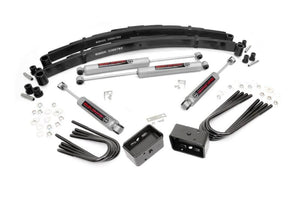 ROUGH COUNTRY 4 INCH LIFT KIT | GMC C15/K15 TRUCK/HALF-TON SUBURBAN 4WD (1969-1972) - 10030
Part #: 10030
$50364

$503.64
Free Shipping in Canada.
---
---
Give your truck an impressive upgrade, front to back with Rough Country's 4" GM Suspension Lift Kit! This easy-to-install lift kit raises the front of your vehicle to be equal height with the rear for a leveled, better-than-stock look that gives an improved ride height and more aggressive appearance.
This kit features a set of front lifted leaf springs allowing you gain additional ride height without sacrificing ride quality or performance. A set of rear blocks and brake line brackets are provided to keep everything at optimum angles for a factory-like ride, even after lifting.
A set of Rough Country's premium N3 shocks are also included. These fine tuned 10-stage variable high-pressure Nitrogen charged shocks offer a fantastic blend of off-road action and smooth highway ride quality. With a durable 18mm spring-loaded piston rod and faster-cooling 54mm shock body.
Get the wheels you want! Rough Country's 4" GM Suspension Lift Kit comes with everything you need to fit up to a 35" tire with proper wheel backspacing.
Best of all, Rough Country's 4" GM Suspension Lift Kit is backed by our Lifetime Replacement Warranty.
FEATURES
Increased ground clearance
Includes application valved N3 series shock absorbers which offer the best in balanced performance for on and off-road use.
If vehicle is equipped with a front sway-bar, drop brackets are recommended. (#1019)
Optional steering arm only fits models with 3-bolt open knuckle steering.
| YEARS | DRIVE | MAKE | MODEL |
| --- | --- | --- | --- |
| 1969-1972 | 4WD | Chevy | C10/K10 Pickup |
| 1969-1972 | 4WD | Chevy | C10/K10 Suburban |
| 1969-1972 | 4WD | Chevy | C20/K20 Pickup |
| 1969-1972 | 4WD | Chevy | K5 Blazer |
| 1969-1972 | 4WD | GMC | C15/K15 Pickup |
| 1969-1972 | 4WD | GMC | C15/K15 Suburban |
| 1969-1972 | 4WD | GMC | C25/K25 Pickup |
| 1970-1972 | 4WD | GMC | Jimmy |
---
Check these out:
---