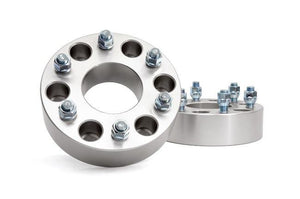 ROUGH COUNTRY 2-INCH WHEEL SPACER PAIR (6-BY-5.5-INCH BOLT PATTERN) - 1101
Part #: 1101
$9006

$90.06
Free Shipping in Canada.
---
---
Give your vehicle a wider track width and increased stability with Rough Country's Aluminum Wheel Spacers. These ultra-durable spacers are constructed from 6061 aluminum for a long lifespan of heavy-duty performance. Rough Country's 2-Inch Wheel Spacers are designed for GM models using a 6x5.5 bolt pattern.
FEATURES
Spaces wheel 2" allowing use of wider tires.
Made from 6061-T6 Aluminum.
Spacers are corrosion resistant.
Studs are preinstalled.
Fits 6 x 5.5" bolt pattern.
Sold in pairs.
VEHICLE FITMENT
| YEARS | DRIVE | MAKE | MODEL |
| --- | --- | --- | --- |
| 2002-2013 | 2WD | Chevy | Avalanche 1500 |
| 2002-2013 | 4WD | Chevy | Avalanche 1500 |
| 1988-1999 | 4WD | Chevy | C1500/K1500 Pickup |
| 1999-1999 | 2WD | Chevy | C1500/K1500 Suburban |
| 1992-1999 | 4WD | Chevy | C1500/K1500 Suburban |
| 1992-1994 | 4WD | Chevy | K1500 Blazer |
| 1999-2021 | 2WD | Chevy | Silverado 1500 |
| 2000-2021 | 4WD | Chevy | Silverado 1500 |
| 2000-2020 | 2WD | Chevy | Suburban 1500 |
| 2000-2020 | 4WD | Chevy | Suburban 1500 |
| 1999-2021 | 2WD | Chevy | Tahoe |
| 1995-2021 | 4WD | Chevy | Tahoe |
| 1988-1999 | 4WD | GMC | C1500/K1500 Pickup |
| 1992-1999 | 4WD | GMC | C1500/K1500 Suburban |
| 1999-2020 | 2WD | GMC | Sierra 1500 |
| 2000-2020 | 4WD | GMC | Sierra 1500 |
| 1999-2021 | 2WD | GMC | Yukon |
| 1992-2021 | 4WD | GMC | Yukon |
| 2000-2021 | 2WD | GMC | Yukon XL 1500 |
| 2000-2021 | 4WD | GMC | Yukon XL 1500 |
---
Check these out:
---