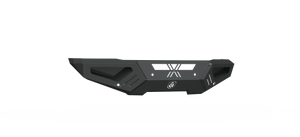 ROAD ARMOR SPARTAN FRONT BUMPER SATIN BLACK | 2015-2019 GMC 2500HD/3500HD
Part #: 2152XF0B
$1,42599

$1,425.99
Free Shipping in Canada.
---
---
Road Armor is the world's premier bumper manufacturer, dedicated to producing the ultimate in form, fit, and finish.

We were the first to create a multifaceted steel bumper design and have led the industry since 2000. There are a lot of other manufacturers on the market these days, and we encourage you to learn the difference --- The Road Armor difference --- because not all replacement bumpers are created equal. There's no substitute for the Original Road Armor Bumpers, 100% Made in Texas, USA and backed by our Lifetime Guarantee.

The Spartan Series front Bumper is designed to be light weight, highly customizable and affordable, all while maintaining Road Armor's tradition of strength and quality. This easy to install bumper is unique because it allows trucks with minimal suspension upgrades to be able to mount the bumper and not affect the handling of the vehicle. This bumper can be used on a stock trucks to a highly customizable beast!
Whether you\'re planning an overland expedition or just out exploring, Warn bumpers are designed for life off road.
15-19 GMC 2500/3500 Sierra/Denali
11-gauge steel
CNC Laser Cut
Formed to fit the contours of your vehicle
Press Broke
---
Check these out:
---