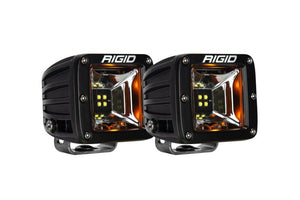 RIGID RADIANCE SCENE LIGHT W/AMBER BACKLIGHT; SURFACE MOUNT; BLACK HOUSING; PAIR
Part #: 68204
$28880

$288.80
Free Shipping in Canada.
---
---
The RIGID Radiance Plus LED light bar is the perfect solution for those who want RIGIDs legendary quality at a level everyone can attain. Featuring RIGIDs improved LED technology, the Radiance Plus light bars deliver up to 35 percent more raw lumens than before. The RIGID Radiance Plus bars are built with the same high-grade aluminum alloy housing as RIGIDs legendary E-Series, but that is where the visual similarities end. Inside, the Radiance Plus bars are feature-packed, with a black exposed circuit board, optimized forward projecting Broad Spot optics that combine the attributes of a spot and flood beam pattern. The Radiance Plus bars have built-in backlighting available in white, amber, red, or blue. Large backlit RIGID branding plates further add to the unique look of the Radiance Plus light bar. The Radiance Plus light bars include a wiring harness and multi-trigger switch for a simple installation. The Radiance Plus LED light bars are for the customer who wants a truly custom look that RIGID is known for. Own The Night with RIGID.
Rigid Industries, located in Gilbert Arizona, is the industry leader and originator of the most efficient LED lighting solutions. Our patented Hybrid and Spector Optics systems and state of the art electronics technology makes our LED products second to none. While providing the best product on the market, we still maintain class leading affordability with a US made product. Rigid Industries is the pioneer of the forward projecting high intensity LED light bars. Out patented technology allows our lights to project up to 40% more Lux while drawing up to 50% less power than any competitor.
RIGID Radiance Scene Light W/Amber Backlight
Surface Mount
Black Housing
Pair
Professional Installation Recommended
RIGID Radiance
Backlight
D-Series Construction And Durability
Pressure Equalizing Vent
IP68 Compliant - Dust/Water Ingress
High Grade Aluminum Alloy Housing And Heat Sink
Fits All D-Series Light Covers And Mounts
Black Exposed Printed Circuit Board
100 Degree Horizontal Spread
10 Year Warranty
9-15 V DC
Controlled Backlighting Available In White/Red/Blue/Amber
Harness And Switch Sold Separately PN 40300
Black Powder Coat Finish
---
Check these out:
---