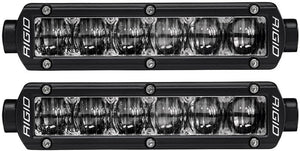 RIGID INDUSTRIES SR-SERIES SAE 6" FOG LIGHT PAIR
Part #: 906703
$42779

$427.79
Free Shipping in Canada.
---
---
RIGID SAE Compliant Dually Fog Light Set allow Rigid Industries LED Lights to be used on-the-road and not just off-road. Rigid created the perfect output spread and height achieved by the new patented Clarilux(TM) optic system. The color temperature of the LEDs is a perfect range of pure daylight to penetrate the night as your eyes read the road. The SAE Compliant lights project long range high intensity light while drawing very little power and provide up to 50,000 useful hours. The low profile design, advanced engineered heat sink, cast aluminum durability and the highest quality of strength of a polycarbonate lens is the ultimate solution for your street-legal needs in North America.
Rigid Industries, located in Gilbert Arizona, is the industry leader and originator of the most efficient LED lighting solutions. Our patented Hybrid and Spector Optics systems and state of the art electronics technology makes our LED products second to none. While providing the best product on the market, we still maintain class leading affordability with a US made product. Rigid Industries is the pioneer of the forward projecting high intensity LED light bars. Out patented technology allows our lights to project up to 40% more Lux while drawing up to 50% less power than any competitor.
Replaces 90670
50000 Plus Hour LED Lifespan/9-36 VDC
Durable UV Powder Coat
Impact Resistant Polycarbonate Lens
High-Grade Aluminum Heatsink
Integrated Thermal Management System
IP68 Compliant - Dust/Water Ingress
Over/Under Voltage Protection
Reverse Polarity Protection
Patented Technology
Bulb Technology

 

LED

Housing Color

 

Black

Housing Shape

 

Rectangular
---
Check these out:
---