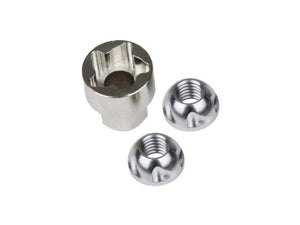 RIGID INDUSTRIES SECURITY KIT FITS E-SERIES; SR-SERIES; RADIANCE
Part #: 40284
$5628

$56.28
Free Shipping in Canada.
---
---
Stainless steel security hardware kit for the Rigid E-Series, E2-Series, SR-Series and SR2-Series LED light families. Includes security nuts/bolts and necessary security keys for installation. Must be used along with standard hardware supplied with your light.
Rigid Industries, located in Gilbert Arizona, is the industry leader and originator of the most efficient LED lighting solutions. Our patented Hybrid and Spector Optics systems and state of the art electronics technology makes our LED products second to none. While providing the best product on the market, we still maintain class leading affordability with a US made product. Rigid Industries is the pioneer of the forward projecting high intensity LED light bars. Out patented technology allows our lights to project up to 40% more Lux while drawing up to 50% less power than any competitor.
SECURITY KIT FITS E-SERIES
SR-SERIES
RADIANCE
Disclaimer-Rigid Industries hereby renounces any and all warranties
guarantees
obligations
liabilities
express or implied
arising by law or otherwise
with respect to this security kit
and specifically disclaims any implied warranty of fitness for any purpose.
Stainless Steel Hardware
---
Check these out:
---