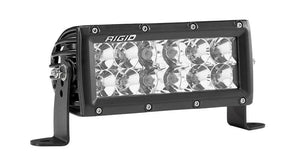 RIGID INDUSTRIES E-SERIES PRO 6" SPOT/FLOOD COMBO
Part #: 106313
$34809

$348.09
Free Shipping in Canada.
---
---
The E-Series is one of RIGID's most versatile, all-around lighting solutions, and recent enhancements in LED technology delivering up to 111% more raw lumens than ever before with the E-Series PRO. Among RIGID's most popular product lines, the E-Series PRO has recently benefited from several upgrades to improve both looks and performance. Plus, new branding and new blacked-out circuit boards give the E-Series PRO a more refined look. Available with your choice of optics, the E-Series features a host of beam options, including Spot, Flood, Driving, Hyperspot, Diffused, and new Driving/Spot and Spot/Hyperspot combinations. These and other innovations make it one of the brightest and most efficient LED light bars on the market. The E-Series was born in off-road, but its versatility makes it well suited for use with power sports, marine, general automotive and even first responder applications.
Rigid Industries, located in Gilbert Arizona, is the industry leader and originator of the most efficient LED lighting solutions. Our patented Hybrid and Spector Optics systems and state of the art electronics technology makes our LED products second to none. While providing the best product on the market, we still maintain class leading affordability with a US made product. Rigid Industries is the pioneer of the forward projecting high intensity LED light bars. Out patented technology allows our lights to project up to 40% more Lux while drawing up to 50% less power than any competitor.
Replaces 106312
Patented Hybrid Optics
10 Degree Spot Pattern
50000 Plus Hour LED Lifespan
Instant On/Off
No Warm Up
Over/Under Voltage Protection
Durable Polycarbonate Lens
Integrated Thermal Management
GORE Pressure Equalizing Vent
Designed/Engineered And Assembled In The USA
---
Check these out:
---