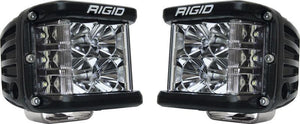 RIGID INDUSTRIES D-SS PRO FLOOD SM (PAIR)
Part #: 262113
$33008

$330.08
Free Shipping in Canada.
---
---
One of RIGID's most versatile, compact lighting solutions just got better with the RIGID D-SS PRO, Dually-Side Shooter Professional Race Output LED pod. Perfect for any application that requires a wide spread beam, including A-Pillars, Fog Lights, and motorcycle applications. The D-SS PRO incorporates powerful optics and recently improved LED technology for greater output with the added benefit of additional LEDs aimed to the side for a much broader beam. The D-SS PRO packs a powerful punch with up to 102% more raw lumens depending on the optics chosen The D-SS PRO fixtures boast up to 120-degrees of horizontal lighting coverage when used in pairs or when used in the single light applications. The main forward-facing LEDs are available with RIGID's advanced Spot, Flood, or Driving optics, so there's a D-SS PRO lighting solution for nearly any application. The D-SS PRO LED lights are available in pairs with three side-shooting LEDs on one side of each fixture, or in single applications with a pair of side-shooting LEDs on both sides of the fixture. Only RIGID provides a broad, powerful lighting solution in such a compact package.
Rigid Industries, located in Gilbert Arizona, is the industry leader and originator of the most efficient LED lighting solutions. Our patented Hybrid and Spector Optics systems and state of the art electronics technology makes our LED products second to none. While providing the best product on the market, we still maintain class leading affordability with a US made product. Rigid Industries is the pioneer of the forward projecting high intensity LED light bars. Out patented technology allows our lights to project up to 40% more Lux while drawing up to 50% less power than any competitor.
Replaces 26211
125 Degree Horizontal Beam For Maximum Coverage
Limited Lifetime Warranty
Same Great Construction/Durability As RIGIDs Legacy D-Series
Available Single Dual Side Shooter Optic
Available Pairs Single Sided Side Shooter Optics On Left/Right
IP68 Compliant Dust/Water Ingress
Waterproof Deutsch Connector
Patented Technology
Unbreakable Polycarbonate Lens
Powder Coated Aluminum Housing
---
Check these out:
---