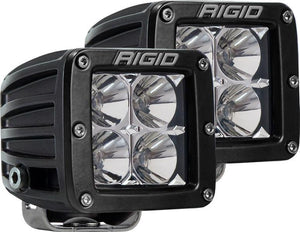 RIGID INDUSTRIES D-SERIES PRO FLOOD SM (PAIR)
Part #: 202113
$21005

$210.05
Free Shipping in Canada.
---
---
The D-Series has always been the most versatile compact lighting package on the market today. RIGID has just made it professional grade with the D-Series PRO, which offers more light output than ever before thanks to recent advancements in LED technology. Available with a variety of mounting options, including surface, flush, or heavy-duty, the D-Series PRO can be utilized for virtually any lighting application. Measuring just 3" x 3", the D-Series PRO packs a powerful punch up to 102% more raw lumens depending on the optics chosen. RIGID's D-Series PRO (Professional Race Output) lights are available with either a black or white finish, and recent updates to the D-Series PRO include new branding and blacked-out circuit boards for a more refined look. They feature the same superior build quality as the rest of RIGID's lighting products, providing reliable and efficient lighting on demand.
Rigid Industries, located in Gilbert Arizona, is the industry leader and originator of the most efficient LED lighting solutions. Our patented Hybrid and Spector Optics systems and state of the art electronics technology makes our LED products second to none. While providing the best product on the market, we still maintain class leading affordability with a US made product. Rigid Industries is the pioneer of the forward projecting high intensity LED light bars. Out patented technology allows our lights to project up to 40% more Lux while drawing up to 50% less power than any competitor.
Replaces 20211
First Original Light Cube
Small 3 in x 3 in. Cube
Produces Either 1568 Or 3096 Lumens
D2s Provide A Huge Amount Of Light
Compact Package
More Cooling Surface Than Any Equivalent Sized Light
Hyperspot Has 93000 Candela Peak Beam Intensity
---
Check these out:
---