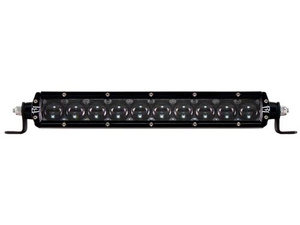 RIGID INDUSTRIES 10" LED LIGHT BAR - HYPERSPOT BEAM
Part #: 91171
$30619

$306.19
Free Shipping in Canada.
---
---
The Rigid Industries SR-Series (single row) Light Bar, like our flagship E-Series, leads the industry in low profile performance LED lighting. Available in a wide range of lengths and configurations, the SR-Series light bar is the perfect low-profile option for everything from on and off-road racing to police and fire rescue vehicles to marine applications. The SR-Series light bar is designed to project light at extreme distances while consuming very little power. Its durable extruded aluminum housing and virtually unbreakable polycarbonate lens are sealed against the elements for years of trouble-free operation. Specter Optics: Our patented Specter optics system features 50 Percent more LED's than our Hybrid optics in the same footprint and is specifically designed to cover more area. By incorporating a reflector with no facets or orange peel, the Specter optics system produces an intense, smooth beam with minimal wasted light. Hyperspot: 5 Degree ultra-narrow concentrated Spot beam pattern for long distance applications. Patent pending aperture system blocks unused light for a clean beam. Highest intensity per watt or square inch on the market as well as Maximum Distance. Our circuitry is designed in-house to be more powerful, be more efficient, and generate less heat. Our durable aluminum housings feature custom, over-sized heat sinks which keep the temperature down and allow our LED's to run cooler and brighter. All Rigid Industries LED lights receive a high quality powder coat finish, a custom-molded rubber seal, and an unbreakable, scratch resistant lens. Rigid Industries LED lights are engineered to withstand whatever you, the road, or nature can throw at them.
Rigid Industries, located in Gilbert Arizona, is the industry leader and originator of the most efficient LED lighting solutions. Our patented Hybrid and Spector Optics systems and state of the art electronics technology makes our LED products second to none. While providing the best product on the market, we still maintain class leading affordability with a US made product. Rigid Industries is the pioneer of the forward projecting high intensity LED light bars. Out patented technology allows our lights to project up to 40% more Lux while drawing up to 50% less power than any competitor.
10-LED Clear Bulb
3750 Raw Lumens
Image May Differ From Actual Product
Single Light With 1 And 3 Inch High Mounting Brackets/ Plug & Play Wiring Harness With Deutsch Connector And Switch
Unbreakable Clear Lexan Lens
---
Check these out:
---