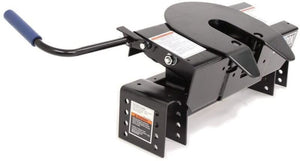 REESE 5TH WHEEL DOUBLE PIVOT 20K HEAD & HEAD SUPPORT, DUAL JAW (LEGS & RAILS SOLD SEPARATELY) - 30118
Part #: 30118
$66796

$667.96
Free Shipping in Canada.
---
---
Pro Series 20K 5Th Wheel Hitch & Support Only(30727 Legs & 30124 Or 30035 Rails Sold Separately)
This product will not fit trucks with beds shorter than 6 foot in length or with Flareside or Stepside.
20,000 lbs. capacity, 
5,000 lbs. pin weight capacity. Full floating head for improved hooking and unhooking, as well as ride. Dual jaw system completely surrounds the king pin for significantly reduced wear. Lubricated and clamped side joints for tight and efficient operation. Lightweight, easy to install and remove. Adjustable height, from 13 in. to 17 in.. Sturdy, robust and reliable. One-piece formed legs, provides a wider footprint for superior stability. Sidewinder compatible, preferred for short bed pickups. Fits universal 4-bolt rail kit (P/N 30095) Must utilize center attachment points for 20K capacities included with 20K Fifth Wheel Hitches) or 10-bolt rail kit (P/N 30035). Compatible slider system available. Best value in marketplace, more combination options.
Adjustable Height: 13" to 17"
Capacity: 20,000 lbs.
Details: 20K Fifth Wheel Hitch (Includes: Head
Head Support & Handle Kit) (Legs & Rail Kit Sold Separately)
Pin Weight Capacity: 5,000 lbs.
20,000 lbs. capacity / 5,000 lbs. pin weight capacity
Vertically adjusts from 13-1/4" to 17"
Tough, heavy-duty stamped head looks just like the ones on the real tractor-trailers!
4 way (front & back/side-to-side) head pivot
6" side-to-side head pivot
King pin indicator
Increased king pin contact design
Wider 9" king pin funnel area
Forged single jaw
Self-latching jaw design
Limited lifetime warranty
---
Check these out:
---