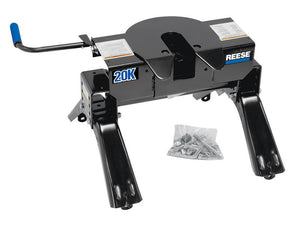 REESE 20K 5TH WHEEL HITCH - 30119
Part #: 30119
$69934

$699.34
Free Shipping in Canada.
---
---
Whether you're a novice at fifth wheel towing or you've been doing it for years, REESE® has the gear you need to connect your truck and trailer safely and securely. Designed with state-of-the-art equipment by top-of-the-line engineers, REESE's 16K fifth wheel hitches are built to last! Featuring wide-stance one-piece legs, a dual jaw locking system, side-to-side pivot action to better accommodate hook-ups on uneven ground, quick installation, and strong performance while on the road. When you're done towing, REESE's fifth wheel hitches are easy to remove as well, giving you full access to the bed of your truck in no time. So tow with the confidence that only REESE can provide and make the journey as enjoyable as the destination.
Rated up to 20,000 lbs. towing capacity and up to 5,000 lbs. pin weight capacity
Fore and aft 44 degree pivot; side-to side 5 degree pivot
Vertically adjust from 13-1/2 inches to 17 inches
Mounts to in-bed (industry Standard) rails
Wide stance, one-piece legs
Dual jaw locking system completely surrounds the king pin for significantly reduced wear
Rugged appearance
Black powder coat over E-coat finish
This product will not fit trucks with beds shorter than 6 foot in length or with Flareside or Stepside
Note: Universal Rail Kit or Quick Install Brackets must be ordered separately.
---
Check these out:
---