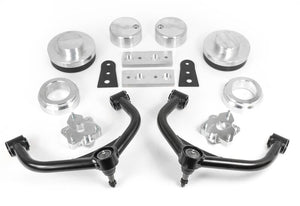 READYLIFT 4" SST LIFT KIT - RAM 1500 4WD 2009-2018 - 69-1040
Part #: 69-1040
$78050

$780.50
Free Shipping in Canada.
---
---
Lift your 2009-2022 Dodge Ram 1500 Classic 4WD 4" to achieve that "Ram Tough" look. ReadyLIFT SST Lift Kits are the fastest, safest, least expensive way to mildly lift your vehicle at both ends. ReadyLIFT SST Lift Kits go one step beyond our popular front leveling kits by providing the vehicle owner with the ability to lift the truck in the front and rear while maintaining a slight rake for towing or hauling. The unique design of the 2009-2022 Dodge Ram 1500 4WD suspension allows our innovative Smart Suspension Technology mounts to fit right on top of both the front and rear struts. To limit droop we include a spring pre-load spacer which aids in achieving 4" of lift without increasing CV angles without exceeding the CV limits which works well within the OEM tolerances. Unlike urethane spacer kits that compress the springs and deteriorate over time, the ReadyLIFT SST Lift Kit for the 2009-2022 Dodge Ram 1500 4WD features CNC machined aircraft grade billet Aluminum construction designed to last the life of the vehicle.
Fits 2009-2018 Ram 1500 4WD 
2019-2022 Ram 1500 CLASSICS 4WD
NOTE:  Not for use with factory air suspension.
Includes tubular upper Control Arms,
4" front lift - 2" rear lift. Allows for Max 35x12.50 tires.
Solid mount and even load distribution
Will not deform or change shape
No cutting of OEM parts (may require minor trimming) or welding
Maintains factory ride
If it needs it… It's in the box
Note: NOT intended for off-road abuse
The 69-1040 SST Lift Kit includes our Tubular Upper Control Arms, which resolve the common problem of the factory ball joint falling out of the stock control arm. This can occur when leveling your Ram 1500 4WD truck. This great leveling kit/UCA combination allows you to safely level your truck while ensuring you will never have a ball joint problem. If you haven't heard about this problem and haven't experienced it YET, just do a search for it online and you will find out the factory ball joints chronically separate from the stock control arm. If you want to safely level your Ram truck, this is the only kit you will want to install on your truck.
NOTE: Not for use on trucks with factory air suspension.
Note: NOT intended for abusive off-road use
---
Check these out:
---