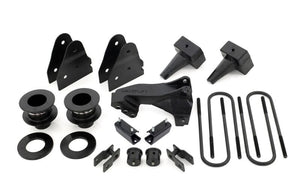 READYLIFT 3.5" SST LIFT KIT - 2017-2022 F250/F350 4WD (2-PC D/S ONLY) - 69-2736
Part #: 69-2736
$67699

$676.99
Free Shipping in Canada.
---
---
ReadyLIFT Suspension has engineered a 3.5" lift kit made to fit the 2017-2022 Ford F250/F350 SuperDuty 4WD trucks with a two-piece drive shaft. These new 3.5" lift kits allow for wheel and tire combinations up to 37" while keeping the smooth OEM ride and drivability. This is a complete lift kit includes 4" OEM-equivalent rear blocks with integrated bump stop landings, 3.5" coil spring extensions with sound isolators, an OEM-style panhard drop bracket, front bump stops OEM shock extension brackets, a pair of radius arm drop brackets, and all needed hardware. When used with the maximum size tires, the F250 truck body is raised over 6". ReadyLIFT Smart Suspension Technology is used to make this kit very user-friendly to install, requiring no cutting or drilling. Like all other ReadyLIFT kits, the F250/F350 3.5" SST Lift Kit is guaranteed for life against manufacturing defects.
Max Lift: 3.5"F/1.0"R - Maximum Tire Dia: 37".
For use on 2017-2022 Super Duty 4WD with 2-piece drive shaft.
Includes radius arm drop brackets, track bar relocation bracket, front coil spring spacers, carrier bearing drop spacer and flat 4" lift rear blocks.

NOTE: For use with trucks with a two-piece drive shaft.
NOTE:  The lift blocks in this kit are not designed to work with aftermarket or factory add-on air spring/load leveling kits that attach to the bump stop tangs. Use of this type of air bag system will void all block warranties and can cause failure of the block bump stop tang.
NOTE:  2020-22 MY Super Duty may sit slightly taller in the rear than prior model years due block height variations from the Ford factory. The additional rake works well visually with the vehicle's body lines.
NOTE:  Not compatible with TREMOR editions
---
Check these out:
---