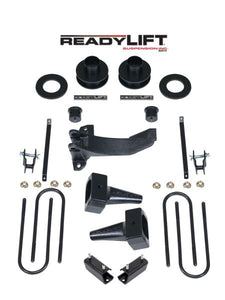 READYLIFT 2.5" SST LIFT KIT W/ 4" REAR BLOCKS - 2011-2016 F250/F350 4WD (1-PC D/S ONLY) - 69-2524
Part #: 69-2524
$57561

$575.61
Free Shipping in Canada.
---
---
ReadyLIFT Suspension has engineered a line of suspension products made to fit the 2011-2016 Ford Super Duty. Our 2011-2016 F250 4WD 2.5"F/2.0"R SST Lift Kit provides the exact amount of front and rear lift required for a slight rake for towing or hauling while allowing for wheel and tire combinations up to 35" and keeping the smooth OEM ride and drivability. This ReadyLIFT SST Lift Kit takes the 2011-2016 F250 Leveling Kit a step further by incorporating a 4.0" OEM-style cast iron block to provide near factory rake to go with the lifted stance on trucks with. This kit includes everything found in the Leveling Kit package (2.5" powdercoated steel coil spring spacers, sound isolators, shock extensions, sway bar frame mount spacers, bump stop extensions, carrier bearing spacer and track bar relocation bracket) while also including ReadyLIFT's popular OEM-style 4.0" Rear Lift Blocks for a great looking - and working - tow/haul package.
Max Lift: 2.5"F/2.0"R - Maximum Tire Dia: 35". For use with 2011-2016 F-250 4WD trucks with one-piece drive shaft.
Includes shock extensions, bump stop extensions, track bar relocation bracket and OEM style rear lift blocks

Our popular 2.5" coil spacers and sound isolators retains that great OEM ride and quiet sound. Shock extensions allow you to retain the use of those great riding brand new front shocks rather than having to replace them with cheap aftermarket versions. In addition, Ford changed the front suspension on the new 2011-2016 F250 trucks and, in order to level the truck, the front sway bar frame mounts must be spaced downward. ReadyLIFT designed new sway bar mount spacers just for this reason, something you won't get with other kits. Our bumpstop extensions allows you to retain the factory distance between the bump stop and axle while a provided carrier bearing spacer gives you the opportunity to adjust your driveshaft angle as needed. Add our popular track bar relocation bracket for improved steering quality and you begin to see this truly is the best 2011-2016 Ford F250 Super Duty Lift kit value on the market today! If you are looking to give your 2011-2016 F250 4WD a lifted stance with a slight rake then this strong 2.5" SST Lift kit is exactly what you need!

ReadyLIFT's 2.5" SST Lift Kit for the 2011-2016 Ford F250 4WD Super Duty trucks is a safe, easy way to lift your Super Duty while maintaining your factory ride. Why spend thousands of dollars for an elaborate mega-lift kit that takes extensive time to install while destroying your ride when you can save money and get a great lift height that rides great and looks awesome while achieving exactly what you wanted to do. ReadyLIFT Smart Suspension Technology is used to make this kit very user friendly to install, requiring no cutting or drilling. Like all other ReadyLIFT kits, the 69-2524 2.5" SST Lift Kit is guaranteed for life against manufacturing defects.

NOTE: 69-2524 - For use on F250 trucks with one-piece drive shaft.
NOTE: The lift blocks in this kit are not designed to work with aftermarket or factory add-on air spring/load leveling kits that attach to the bump stop tangs. Use of this type of air bag system will void all block warranties and can cause failure of the block bump stop tang
---
Check these out:
---