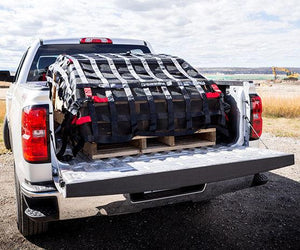 QUARANTINE BOX RESTRAINT - SHORT BOX
Part #: QAB-SBN
$20682

$206.82
Free Shipping in Canada.
---
---
Quarantine's Exterior Cargo Restraints connect to the truck bed using four provided adjustable FS Tie Downs straps equipped with unique length adjusting hardware and mountaineering style aluminum quick connect carabiners. The straps of the exterior cargo restraint system adjust to 50 inches for extra-high loads and the detachable design allow for a wide range of tie-down applications. You can choose from three different suggested connector points on the Exterior Cargo Restraint System to enable proper securement of larger to smaller cargo loads. The exterior cargo restraints is proven to reduce setup time and provide exceptional ease of use in comparison to other products on the market. Quarantine Restraints sets the standard for cargo securement. Quarantine's truck and trailer exterior cargo restraints serve a variety of applications within the oil and gas industry, survey and seismic sectors, as well as government and utilities. products surpass all job site safety standards and are compliant to DOT regulations pertaining to certified cargo securement. Environmental issues of lost cargo and the annoyance of traffic fines are not the leading factor for products creation, but rather the goal of exterior cargo restraint system is to eliminate the serious danger an unsecured load can cause on roads and highways. We put ourselves in the mind of the person driving behind 'that guy' with a pickup truck that suddenly loses his load, and a wheel-barrel and spare tire land and bounce on the highway directly in front of you. We are making it mission for industry and the public to view cargo securement as no less serious of a safety concern then clipping on your seatbelt. It is with this in mind we have created exterior cargo restraint system.
Dimensions: 73" Width x 79" Length. Mounts to truck bed. This product is made of high-quality materials to serve you for years to come. Designed using state-of-the-art technology and with customers in mind. It will meet your needs and deliver great quality at an affordable cost.
2" Wide Seat BeltPoly Webbing With Industrial Grade Stitching
4 Detachable Flow-Strap Tie-Down Straps Suitable For Multiple Applications
Case Material: Polyester Webbing
Connection Points To Enable Proper Securement Of Any Sized Load
Mounting Location: Truck Bed
---