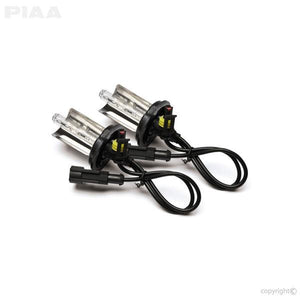 PIAA HS1 HID HEADLIGHT CONVERSION KIT
Part #: 71191
$23154

$231.54
Free Shipping in Canada.
---
---
PIAA HID headlight conversion kits are available for use in a wide range of vehicles, such as UTVs, ATVs, SUVs, and sedans. They feature a powerful 35 watt bulb with a 6000K output and include ballasts, igniters, and the appropriate wiring harnesses to be easily installed into your vehicle. If you're looking for some super-bright light to help improve the visibility of whatever roads you're on at night, PIAA HID headlight conversion kits are an excellent way to do it.
PIAA Corporation was established in 1963 with the commitment to manufacture world-class products that our customers could use with pride and confidence. Today, PIAA upholds that commitment by combining market driven concepts with the latest technology to make night and inclement weather driving as safe as possible.
35 watt power draw
6000k Color Temperature
ballast included
Plug and Play Installation
---