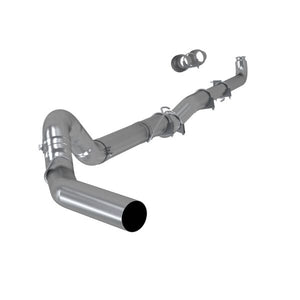 MBRP Armor Lite 5" Down Pipe Back, Single Side, No Muffler, AL, 2001-2007 SILV/SIERRA 2500/3500 6.6L DURAMAX, EC/CC - S60200PLM
Part #: S60200PLM
$52161

$521.61
Free Shipping in Canada.
---
---
Armor Lite / formerly PLM Series (Performance Less Muffler)
Unleash your vehicle's most aggressive sound with an MBRP Race Profile exhaust. Hear the biggest gains and turn heads every time you hit the gas. Your vehicle will sound like it belongs on a race track.
Aggressive sounding system
Aluminized Steel construction
Comes standard with Muffler Delete
Two-piece tail pipe configuration
Available for Diesel only
Limited 1-year warranty
Year:

 

2001-2007

Make:

 

Chevrolet/GMC

Model

 

Silverado 2500HD/Silverado 3500HD/Sierra 2500HD/Sierra 3500HD

Engine:

 

6.6L Duramax V8

Fuel Type:

 

Diesel

Vehicle Configuration:

 

6.6L Duramax Engine Only, Classic, Extended Cab, Crew Cab Only. 4 Inch Front Pipe Included For Vehicles Not Equipped With A Catalytic Converter.

Part Number:

 

S60200PLM

Part Type:

 

Exhaust

Type:

 

Cat-Back

Tubing Size:

 

5 Inch

Series:

 

Armor Lite

Material:

 

Aluminized Steel

Warranty:

 

1-Year Warranty

Profile:

 

Race Profile
---
Material Specs:
Aluminized Steel
Our most value-oriented material, this tough mild steel is a great option for dry climates with no rain or salt. If you're wanting an exhaust option that doesn't break the bank this is it.
---
Sound Profiles:
Race Profile
Unleash your vehicle's most aggressive sound with an MBRP Race Profile exhaust. Hear the biggest gains and turn heads every time you hit the gas. Your vehicle will sound like it belongs on a race track
---
Check these out:
---