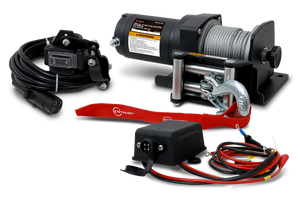 ENTHUZE 2500LB ATV WINCH, STEEL ROPE - ACTENT3501P
Part #: ACTENT3501P
$13540

$135.40
Free Shipping in Canada.
---
---
The Enthuze 2500lb 12 Volt DC Electric ATV Winch has a permanent magnet motor which draws less current, making it ideal for ATV use. The single-stage planetary gear system allows for fast line speed while the automatic load-holding brake provides maximum safety. It has free spooling for a fast line-out, a roller fairlead with nylon bushing and an aircraft-grade wire rope.
The Enthuze line is constantly undergoing product development so that we can offer you the most affordable accessories from LED Lighting to Tonneau Covers and wheels without any compromise in quality. When you add Enthuze accessories to your ride, you can be sure that you're getting quality automotive products at the most competitive prices. Only products that are tried and tested wear the Enthuze name so when adding functionality or style to your vehicle, get enthused with Enthuze Automotive Accessories.
1.1 HP permanent magnet motor
Free spool enables faster rigging and vehicle recovery
Automatic load-holding brake keeps drum cool
Includes 50' galvanized aircraft-grade wire rope
4-way steel roller fairlead reduces friction and improves rope life
Operates with handlebar-mounted rocker switch
Colour-coded wires for easy installation
Includes mounting brackets and hardware
Rated Single Line Pull: 2,500 Ib. (1,134kg.)
Application: Utility/Shop/ATV
Motor: 12V DC 1.1 HP Permanent Magnet
Power In & Power Out: Yes
Duty Cycle Rating: 5% (45 Sec at Max Rated Load
14 minutes, 15 seconds rest)
Handlebar Rocker Switch: Wired, 12ft (3.7m) Long
Gear Train: Differential Planetary
Gear Ratio: 153:1
Free Spool: Pull and Turn
Brake: Auto. Load Holding Dynamic
Drum Diameter: 1.24" X 2.83" (31.5mm x 72 mm)
Hook: 1/4" Clevis, with Spring-Loaded Safety Latch
Fairlead: Roller with Nylon Bushings
Wire Rope Size /Type: 5/32" x 50' (4.0mmX15.2m)
7X19 Galvanized Steel
Aircraft Wire Rope
Battery: 12V DC Minimum 12Ah
Battery Cables: 10 Gauge, 5.9' (1.8m) long
Mounting Bolt Pattern: 3.15'' (80mm)
Mounting Hardware: Winch: 2xG8, M8-1.25X35mm (0.05" X 1.38'' ), Fairlead: 2x G8. M8-1.25 X 20mm (0.05'' X 0.75'')
Solenoid Box: 2x G8. M5-0.875 X 20mm (0.03'' X 0.75'')
Overload Protection: In-line Circuit Breaker
Sound Rating: 85db
Overall Dimensions (L X D X H): 11.1" × 4.61" × 4.17" (282mm × 117mm × 106mm)
Weight: 17.86 Ib. (8.1kg)
IP Rating: IP 65 - Winch and Controls (resistant to water jets)
To prevent serious injury, read and understand the owner's manual before operating
Do not exceed the rated load capacity
This winch is intended for pulling only
Do not use to transport people or animals
Keep hands clear of winch rope, hook loop, hook and fairlead opening during installation and operation, and when spooling in our out.
Wear ANSI-approved safety goggles and heavy-duty leather work gloves during installation and use
Do not engage or disengage the clutch while loaded
Keep bystanders out of the area while operating the winch
Not for use by or around children
---
Check these out:
---