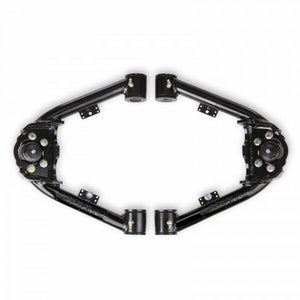 Cognito Ball Joint Tubular Upper Control Arm Kit without Dual Shock Mounts - 99-06 Silverado/Sierra 1500 2WD/4WD
Part #: 110-90289
$68897

$688.97
Free Shipping in Canada.
---
---
Specifically for leveled and lifted applications where an upgrade is desired to provide better performance, style, and function.
Powder coated semi-gloss black. Cognito alloy series ball joints are included as well as new crush sleeves and polyurethane bushings. Ample droop travel is required for good ride quality and all suspension components to last and work properly.
This control arm kit will add performance to the Chevy and GMC truck by correcting the ball joint angle for lifted and leveled applications. The allowable droop travel is also improved with the design of these arms. Made in the USA.
Notes:
99-06 Silverado/Sierra 1500 2WD/4WD
These control arms do not have dual shock mount provisions. If control arms with shock mounts are needed please see alternate sku.
Must use applicable Cognito Limit Strap Kit to limit droop travel. Otherwise damage to the control arm, cv axle, and other parts may occur
Details:
Polyurethane bushings
Corrected ball joint angle
Tubular style construction
Semi gloss black powder coating
Made in the USA
| Year | Make | Model | Sub-Model |
| --- | --- | --- | --- |
| Year | Make | Model | Sub-Model |
| 2000-2006 | GMC | Yukon XL 1500 | SLT |
| 2000-2006 | GMC | Yukon XL 1500 | SLE |
| 2006 | GMC | Yukon XL 1500 | SL |
| 2001-2006 | GMC | Yukon XL 1500 | Denali |
| 2000-2006 | GMC | Yukon | SLT |
| 2000-2006 | GMC | Yukon | SLE |
| 2006 | GMC | Yukon | SL |
| 2000-2006 | GMC | Yukon | Denali |
| 2002-2006 | GMC | Sierra 1500 | WT |
| 1999-2006 | GMC | Sierra 1500 | SLT |
| 1999-2006 | GMC | Sierra 1500 | SLE |
| 1999-2006 | GMC | Sierra 1500 | SL |
| 2005-2006 | GMC | Sierra 1500 | Hybrid |
| 2002-2006 | GMC | Sierra 1500 | Denali |
| 2000-2006 | Chevrolet | Tahoe | Z71 |
| 2000-2006 | Chevrolet | Tahoe | LT |
| 2000-2006 | Chevrolet | Tahoe | LS |
| 2000-2006 | Chevrolet | Tahoe | Base |
| 2004-2006 | Chevrolet | Suburban 1500 | Z71 |
| 2006 | Chevrolet | Suburban 1500 | LTZ |
| 2000-2006 | Chevrolet | Suburban 1500 | LT |
| 2000-2006 | Chevrolet | Suburban 1500 | LS |
| 2000-2006 | Chevrolet | Suburban 1500 | Base |
| 2002-2006 | Chevrolet | Silverado 1500 | WT |
| 2003-2006 | Chevrolet | Silverado 1500 | SS |
| 1999-2006 | Chevrolet | Silverado 1500 | LT |
| 1999-2006 | Chevrolet | Silverado 1500 | LS |
| 2004-2006 | Chevrolet | Silverado 1500 | Hybrid |
| 2002-2005 | GMC | Sierra 1500 | |
| 1999-2005 | Chevrolet | Silverado 1500 | |
| 2004 | Chevrolet | Silverado 1500 | Z71 |
| 2002 | GMC | Sierra 1500 | HT |
| 2001 | GMC | Sierra 1500 | C3 |
| 2000 | Chevrolet | Tahoe | Limited |
---
Check these out:
---