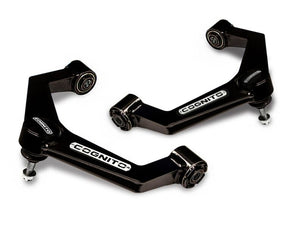 Cognito Ball Joint SM Series Upper Control Arm Kit For 20-23 Silverado/Sierra 2500/3500 2WD/4WD - 110-90910
Part #: 110-90910
$71869

$718.69
Free Shipping in Canada.
---
---
Each Kit Features:
Cognito Ball Joint SM Series Upper Control Arm Kit
Corrected ball joint angle
Added caster
Powder coated semi-gloss black
Polyurethane bushings
1.5-hour DIY install time
Fits as stock replacement or leveled and lifted applications where an upgrade is desired to provide better performance, style, and function.
The Cognito Ball Joint SM Series Upper Control Arms add style, function, and performance to your vehicle by improving the allowable droop travel for a better ride quality. The control arm kit features boxed sheet metal arms that are CNC robot welded and powder coated semi-gloss black.
These arms feature corrected ball joint angle for lifted and leveled applications. The allowable droop travel is also improved with the design of these arms. Ample droop travel is required for good ride quality and all suspension components to last and work properly.
Fitment
| Year | Make | Model | Sub-Model |
| --- | --- | --- | --- |
| Year | Make | Model | Sub-Model |
| 2020-2023 | GMC | Sierra 3500 HD | SLT |
| 2020-2023 | GMC | Sierra 3500 HD | SLE |
| 2023 | GMC | Sierra 3500 HD | Pro |
| 2020-2023 | GMC | Sierra 3500 HD | Denali |
| 2020-2023 | GMC | Sierra 3500 HD | AT4 |
| 2020-2023 | GMC | Sierra 2500 HD | SLT |
| 2020-2023 | GMC | Sierra 2500 HD | SLE |
| 2023 | GMC | Sierra 2500 HD | Pro |
| 2020-2023 | GMC | Sierra 2500 HD | Denali |
| 2020-2023 | GMC | Sierra 2500 HD | AT4 |
| 2020-2023 | Chevrolet | Silverado 3500 HD | WT |
| 2020-2023 | Chevrolet | Silverado 3500 HD | LTZ |
| 2020-2023 | Chevrolet | Silverado 3500 HD | LT |
| 2020-2023 | Chevrolet | Silverado 3500 HD | High Country |
| 2020-2023 | Chevrolet | Silverado 3500 HD | Base |
| 2020-2023 | Chevrolet | Silverado 2500 HD | WT |
| 2020-2023 | Chevrolet | Silverado 2500 HD | LTZ |
| 2020-2023 | Chevrolet | Silverado 2500 HD | LT |
| 2020-2023 | Chevrolet | Silverado 2500 HD | High Country |
| 2020-2023 | Chevrolet | Silverado 2500 HD | Custom |
| 2020-2022 | GMC | Sierra 3500 HD | Base |
| 2020-2022 | GMC | Sierra 2500 HD | Base |
| 2020 | GMC | Sierra 3500 HD | |
| 2020 | GMC | Sierra 2500 HD | |
---
Check these out:
---