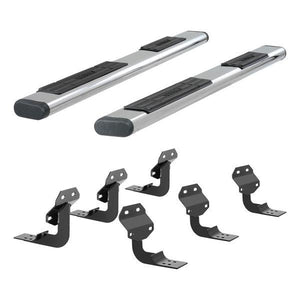 ARIES 6" CHROME OVAL RUNNING BOARDS | 2015-2020 F150 & 2017-2020 F250/F350 CREW CAB
Part #: 4444027
$58836

$588.36
Free Shipping in Canada.
---
---
For solid footing, a comfortable step and a bold look for your truck, ARIES 6" oval side bars are a step up. They are designed to mimic the style popular original equipment side bars and running boards, featuring two professional finish options, large non-skid step pads and tapered end caps. This particular pair of 6" ovals is made with 304 stainless steel, meaning they are high in nickel content to be truly resistant to rust and corrosion. For a lasting shine and a bright accent on your vehicle, they are given a highly polished, mirror-like finish. They are also available in semi-gloss black powder-coated aluminum. To protect the interior of the tubes, all 6" oval sides are equipped with hard ABS plastic end caps. The end caps come pre-attached to the tubes and feature a tapered design, lending to the overall OE look of the side bars and providing a professional finishing touch on your truck or SUV. For a sure step every time you climb into your vehicle, ARIES 6" ovals are equipped with extra-wide step pads. The step pads are made from tough polypropylene and provide a generous 5" width. The large, flat surface offers comfortable footing and has a textured surface to prevent slipping, even when wet. The polypropylene construction makes the step pads durable and crack-resistant for long-lasting use. ARIES 6" oval side bars are also made for easy, no-drill installation. The boards themselves feature a track system for versatile application, and they mount using vehicle-specific brackets for a custom fit. The mounting brackets are made from high-strength carbon steel and use pre-existing holes to eliminate drilling during the installation process (NOTE: This set of side bars includes vehicle-specific mounting brackets. See the application information to verify compatibility with your vehicle).
Aries Automotive hit the road running in 1997. We have since become an industry leader in providing the latest truck and SUV models with unparalleled tubular steel, aluminum, carbon fiber and ABS plastic products. We have furthered our success by recently expanding our operations in San Antonio, Texas, Harbor City, California, and Richmond, Canada. This has enabled us to meet the increasing demands for our unique and innovative products with on time delivery, at competitive rates. When searching for the latest model application, or simply a top quality automotive aftermarket product, call on Aries Automotive.
6in. Oval Side Bars
2015-2020 F150 & 2017-2020 F250/F350 CREW CAB
Includes 6" oval side bars S2891 and mounting brackets 4508
6" wide, OE-style tube with hard ABS plastic end caps
Truly rust-resistant 304 stainless steel construction
Mirror-like polished stainless steel finish
Extra-wide, non-skid step pads for a safe, comfortable step
Universal track mounting system for easy, secure installation
Vehicle-specific, heavy-duty steel mounting brackets for a custom fit
Sold in pairs with mounting brackets included (see application guide)
Limited lifetime warranty
1-Year Parts
304 Stainless Steel Construction/Strong/Rust-resistant
Bright And Clean Accent
Extra-wide Non-Skid Step Pads
Safe And Comfortable Entry/Exit
No-Drill Vehicle Specific For Custom Fit
Heavy-duty Steel Mount Brackets
Color

 - 

Polished

Finish

 - 

Polished Stainless

Material

 - 

Stainless Steel

Side Component Type

 - 

Board and Bracket

Tube Shape

 - 

Oval
---
Check these out:
---